Building Community
Sano-Rubin actively engages organizations, businesses and individuals in the communities we build in and are committed to economic inclusion and community outreach.  We believe collaboration, commitment, shared experience and pride enhances our community.
By leveraging our excellent relationships with the subcontracting community, regional labor market, local government officials, economic development offices and education institutions Sano-Rubin drives each project forward to success.
Our approach propels economic growth and opportunity, promotes the construction industry and leads to lasting relationships.
Culture of Care
The best solutions come from sharing our unique perspectives and experiences.  Sano-Rubin promotes communication through an open and inclusive culture – we strive to continually strengthen and improve our team.
We have pledged to building a culture that is safe, welcoming and inclusive to everyone. We are a culture of care. Take the pledge at buildculture.org
Initiatives + Awareness
Sano-Rubin works to increase awareness for a more diverse, equitable and inclusive workforce.  We recently participated in the 21-Day Capital Region Anti-Racism Community Training Initiative. Together, we can eliminate race-based discrimination and ensure the health and well-being of all persons in our community!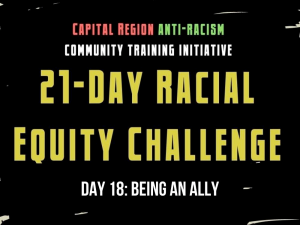 Be Unique.
Our employees are as distinct as the projects we build.  We encourage our entire staff to embrace their unique perspective and experiences to develop "out-of-the-box" solutions and deliver exceptional service to our clients. By learning and sharing with each other, we continually build the strength of our team and challenge them to reach their full potential.
We have pledged to building a culture that is safe, welcoming and inclusive to everyone. We are a culture of care. Take the pledge at buildculture.org